Haircare Solutions for Menopausal Women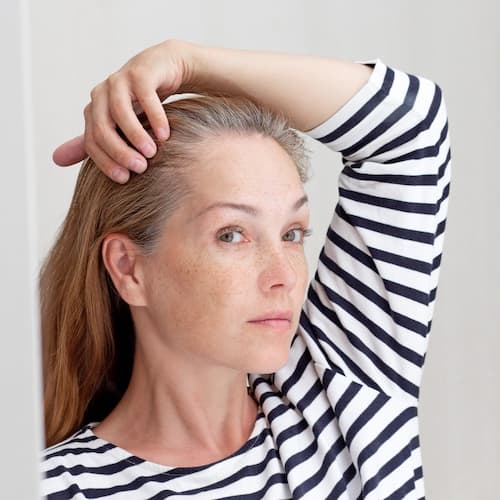 enopause is an inevitable and challenging phase in most women's lives, accompanied by a range of experiences, including changes in hair health. As a company devoted to ensuring the finest salon-quality hair care, we understand women's emotions and concerns during this time.
Having great-looking hair is not only an aesthetical choice but can be a confidence boost for many. So, when the effects of menopause start to take effect on our hair, it can have a negative impact on mental health. Being experts in hair care products, we hope to help by exploring the various ways you can save your hair, turning it from drab to fab, and keeping you as youthful and beautiful as you are inside and out.
Understanding Hair Changes During Menopause
During menopause, various hormonal changes occur within your body, which can influence the health and appearance of your hair. Although everyone experiences it a little differently, there are some common effects:
Hair thinning or hair loss: It's common for women to see their hair thinning or shedding during menopause. This phenomenon is linked to reduced production of hormones like oestrogen and progesterone, both crucial to promoting hair growth and renewal.
Changes in hair texture: Many women observe that their hair becomes thinner, drier, and frizzier. The exact textures might vary from person to person.
Changes to the scalp: Dryness and flakiness of the scalp are also common symptoms which further contribute to dry hair.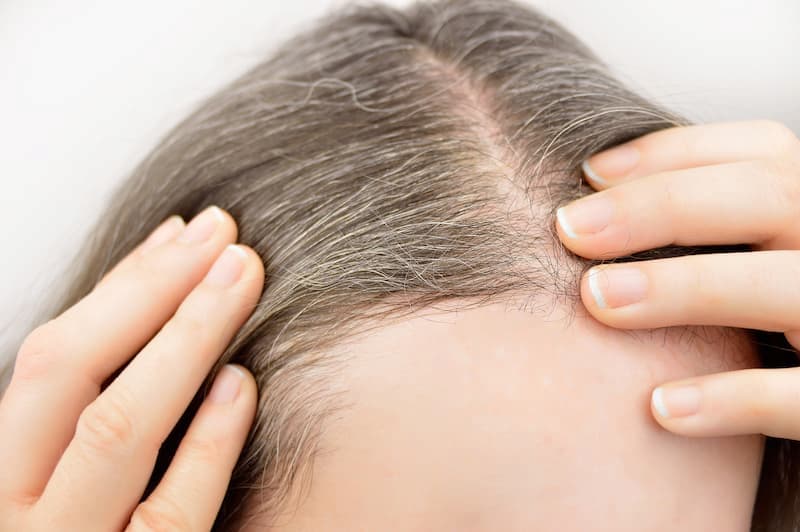 As your hair undergoes these changes, it's crucial to understand the hormonal processes driving them and seek appropriate hair care solutions. Choosing the right products from luxury hair care brands can make all the difference in maintaining your unique hair type.
The Importance of Your Health Before Aesthetics
While focusing on your hair's appearance, it's essential to recognise that overall health plays a significant role in its well-being. During menopause, prioritising your health before aesthetics entails maintaining a balanced diet, engaging in regular physical activity, and managing stress levels.
These holistic health practices can also contribute to healthier, stronger hair, often complementing topical treatments effectively. So, whilst our products can help elevate your hair and restore it during this period, a healthy diet and balanced meals can also be valuable. There's a collection of foods full of nutrients, which can often help give you that Hollywood-approved glossy glow:
Egg: Given that hair is made up of protein, eggs are the best option for hair health as they are a rich source of protein and biotin.
Fish (like Salmon, Mackerel and Sardines): They're packed with omega-3 fatty acids essential for hair health.
Leafy Greens: Greens like spinach are excellent sources of iron. Iron deficiency is linked with hair loss.
Chicken: It's rich in B vitamins like biotin and niacin, which are important for hair growth.
Additionally, a Mediterranean diet rich in raw vegetables, fresh herbs, and high-protein foods, including soy, might benefit hair health.
Choosing a Gentle, Nourishing Hair Care Routine
At Merritts for Hair, we strive to offer valuable guidance to those experiencing menopause. Our expertly curated range of products from renowned brands like Fabriq and Mediceuticals ensures you can maintain a gentle and nourishing hair care routine during this time.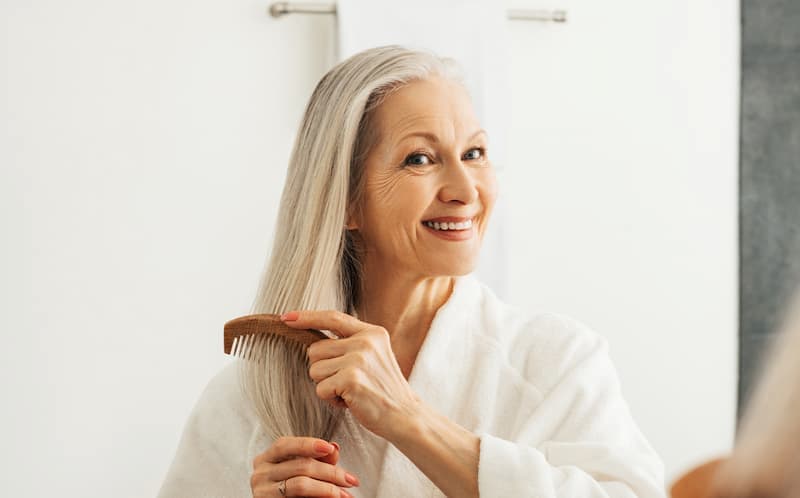 To choose an appropriate shampoo or conditioner, pay close attention to product labels and opt for sulphate-free and paraben-free offerings. Additionally, select products specifically designed to revitalise and moisturise your hair, restoring its natural vibrancy.
Here are our top nine products for hair loss, excess greasy texture, or frizz.
Hair Care Products for Hair Loss
Hair loss is an issue for many women and can happen at all stages of life. Some women struggle with it post-partum, whereas many will see the dreaded stragglers falling out during the various stages of menopause. So here are three products that can make your hair feel fuller and healthier.
Glowwa Hair Food Meno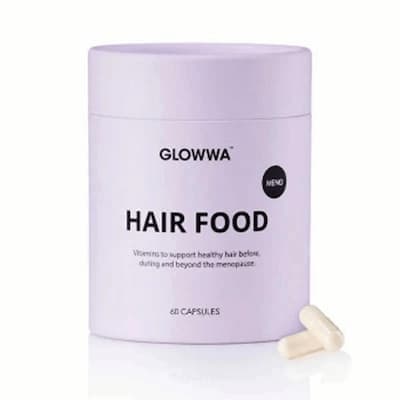 Glowwa Hair Food Meno is designed to promote healthy hair growth and overall well-being, specially tailored for menopause. With a blend of vitamins, phytonutrients, antioxidants, and natural DHT blockers, users have reported healthier hair, reduced shedding, and improved mood, energy, and sleep quality. It also helps in regulating hormonal activity. Align hair health with well-being using this holistic, nutrient-packed solution.
Alfaparf Semi Di Lino Scalp Renew Energising Shampoo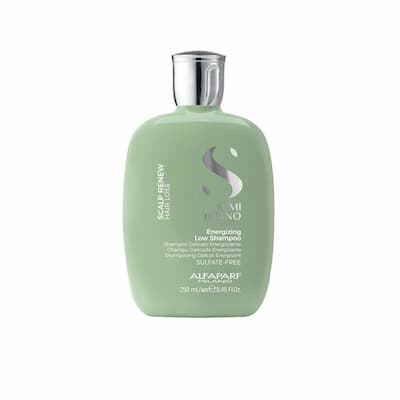 The Alfaparf Semi Di Lino Scalp Renew Energising Shampoo is a specialised solution for menopausal women experiencing hair weakening or thinning. This shampoo, enriched with grape extract, common walnut, and rocket, actively prevents hair loss and shields hair follicles, resulting in stronger and shinier hair. Additionally, it soothes delicate scalps, which can become sensitive during menopause.
NAK Follicle Energiser Leave-in Treatment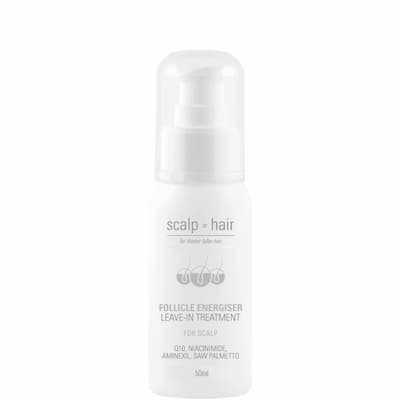 The NAK Follicle Energiser Leave-in Treatment is a beneficial solution for menopausal women dealing with hair concerns. This treatment stimulates the scalp, encourages blood flow, and rejuvenates hair follicles, addressing hair thinning during menopause. Furthermore, its protective and moisturising properties soothe delicate and dry scalps, a common issue in menopause.
Products for Oily Scalps
An oily scalp can be particularly burdensome, as it often results in greasy hair and dandruff and occasionally aggravates scalp-related conditions. Due to fluctuating hormonal levels, menopause can trigger excessive sebum production, leading to added frustration and discomfort while managing an oily scalp. Here are three options to help make this an issue of the past.
Fuente Menta Herbal Shampoo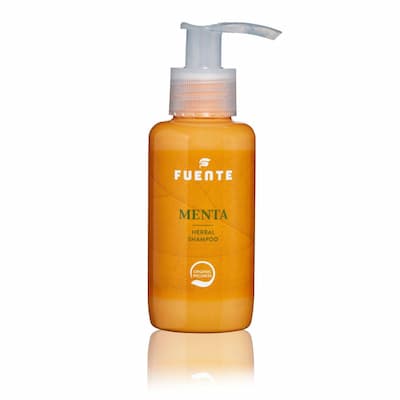 The Fuente Menta Herbal Shampoo is a natural remedy for greasy hair often experienced during menopause. This shampoo harnesses the power of comfrey, witch hazel, and field horsetail to address problem scalps, counter dandruff, and even soothe psoriasis. Composed of 50% protein and moisture, this pH-balanced shampoo (pH value 5.00) effectively cleanses your hair and scalp, leaving them refreshed, revitalised, and free from excess oil and itchiness.
Alterna Canvas Another Day Dry Shampoo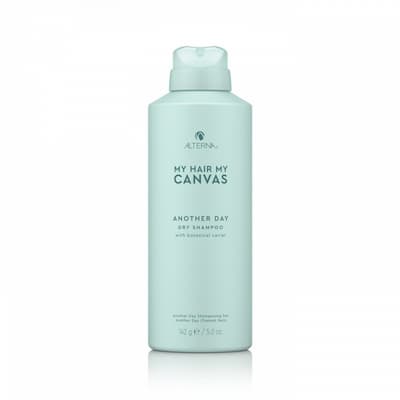 The Alterna Canvas Another Day Dry Shampoo offers a quick and convenient solution for women going through menopause. With its lightweight, translucent formula and nutrient-rich vegan botanical caviar, it absorbs oils and provides body to refresh your hair, letting you go longer between washes. Experience a revitalising, clean, and refreshed feel without compromising on your busy schedule.
Alfaparf Scalp Rebalance Balancing Shampoo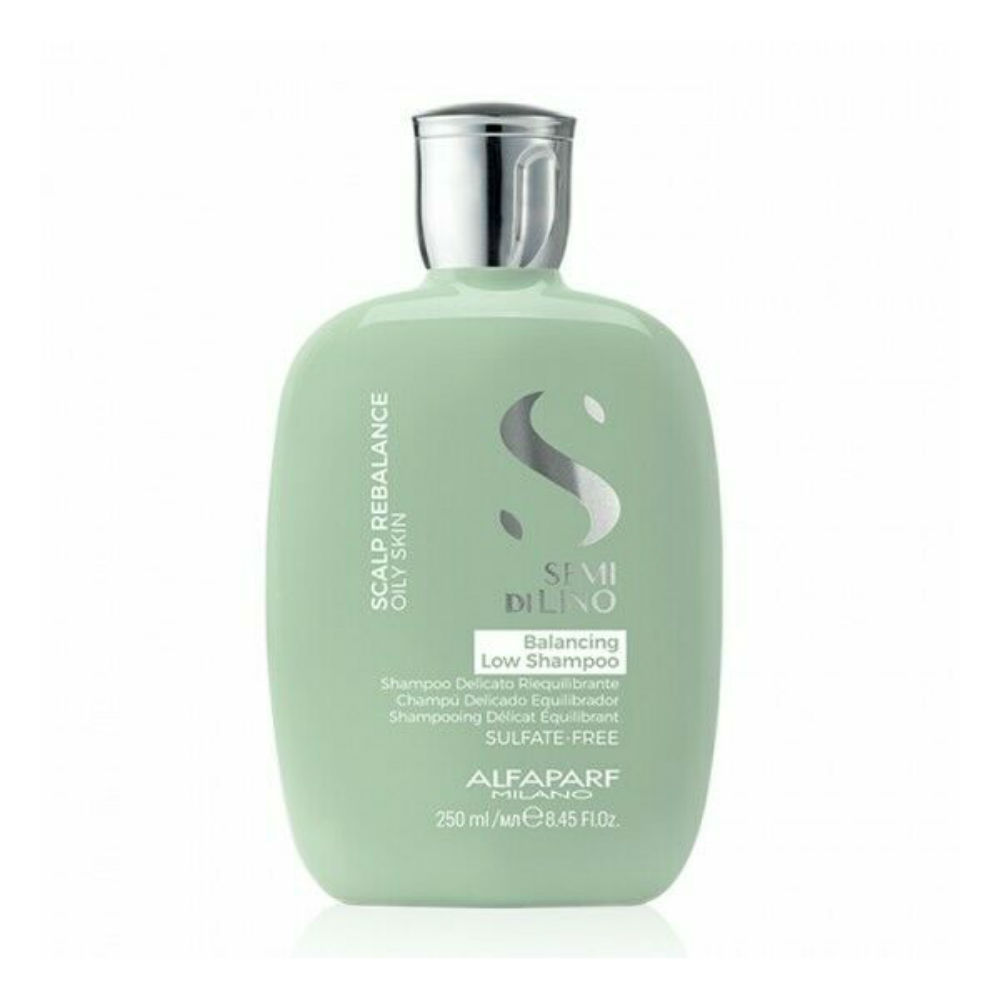 The Alfaparf Scalp Rebalance Balancing Shampoo helps manage problem scalps prone to excess sebum production, often exacerbated during menopause. This enriched formula employs a combination of probiotics and prebiotics, maintaining the scalp's healthy pH balance. It effectively cleanses and normalises the scalp, tackling greasy hair by gently removing the excess oil. The shampoo is also free from sulphates, parabens, and mineral oil, ensuring a gentle yet thorough cleanse.
Products for Tackling the Frizz
The decline in oestrogen levels during this vital stage of life can also result in decreased oil production, leading to drier, frizzier hair. This can be a challenging and frustrating experience, often adding to the array of changes menopausal women contend with daily. However, check out these three products that can make your day a little smoother.
Alterna Caviar Restructuring Bond Repair Travel Kit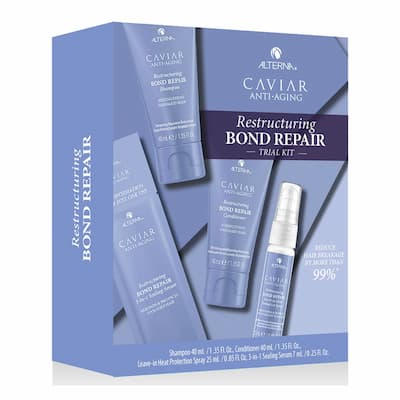 The Alterna Caviar Restructuring Bond Repair Travel Kit is here to make your life a whole lot easier. This cute, travel-sized kit has everything you need to manage frizz and keep your hair looking fabulous:
• Caviar Bond Repair Shampoo (40ml)
• Caviar Bond Repair Conditioner (40ml)
• Caviar Bond Repair 3-in-1 Sealing Serum (7ml sachet)
• Caviar Leave-in Heat Protection Spray (25ml)
Not only do these products nourish and smooth your hair, but they also offer much-needed protection from all those frizz-causing elements.
Olaplex No 0 Intensive Bond Building Hair Treatment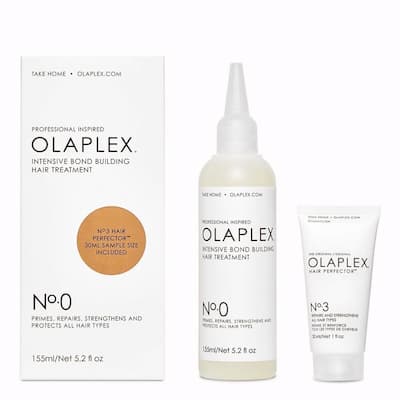 The Olaplex No 0 Intensive Bond Building Hair Treatment is your answer for stronger, healthier hair. Designed to work with Olaplex No 3, this treatment tackles hair damage effectively. Plus, it's paraben-free, sulphate-free, cruelty-free, and vegan. Simply apply, leave on, then rinse and follow with your preferred Olaplex shampoo and conditioner. Embrace the journey to radiant hair with this innovative product.
Considering Professional Treatments
For those struggling with persistent hair loss, it might be worthwhile to consider professional treatments. These options range from hormone replacement therapy to hair transplant surgery and laser therapy, all seeking to address hair loss more directly.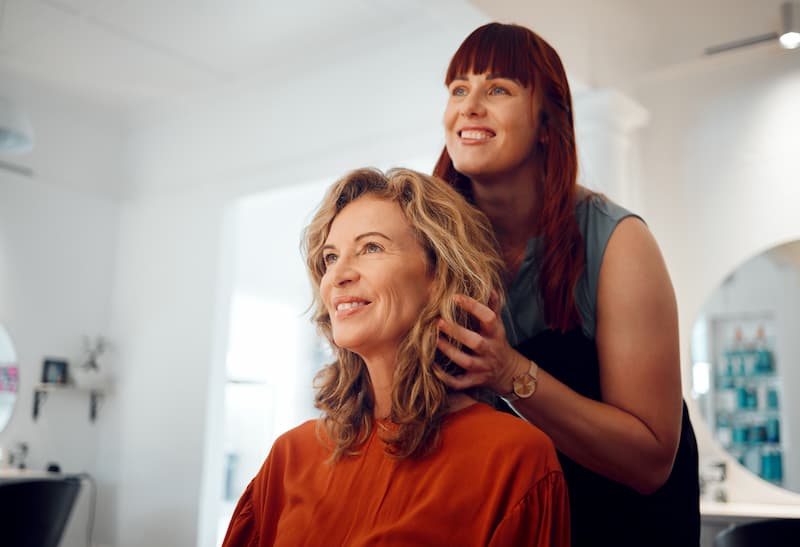 Before opting for a specific treatment, consult your healthcare provider and a trusted hair care professional. Assess the possible benefits and weigh them against potential side effects to make an informed decision. Remember, finding the right solution for your unique hair needs and personal circumstances is essential.
Get the Right Products for You
Menopause is a challenging time for most women, bringing a myriad of hair changes along with it. You can manage these transformations by understanding the hormonal processes at play, prioritising your overall health, and adopting a gentle, nourishing hair care routine.
Merritts for Hair is dedicated to being your comprehensive hair care partner during menopause. By offering a range of products from luxury hair care brands and providing expert assistance, we hope to instil confidence and self-love in every woman during this transition phase. Do not hesitate to contact us for any additional information on any of our products or brands to help you make the right decision for your luscious locks.