Kerastraight Styling Range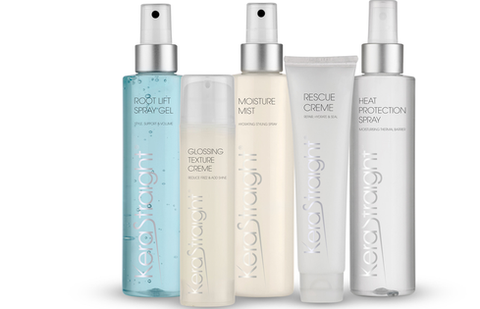 This morning we were excited to receive our first delivery of the newly launched KeraStraight Styling products.
These long awaited products will be a great addition to the keratin treated hair products and with a carefully selected range there is sure to be something for everyone.
I'm really pleased to see a Root Lifting Spray Gel, that adds volume and body to the range, as not everyone want their keratin treated hair to be flat and sleek.
Taking the frizz out of shorter hair with the smoothing treatment allows us to create a sleeker look, but now we can achieve fullness and lift with this great gel spray. It also smells lovely,fresh and light, banishing that tell tale keratin smell from the hair.
Also a fabulous addition is the Texture Creme, which I think lends itself to creating messy textured hair, but keeps your hair looking shiny and glossy. Using it in the salon today, on a short layered Bob, it gave it a more edgy look and was a lovely finishing product
The Heat Protection Spray has a lovely light fragrance and is heat activated, keeping the moisture locked in while using your irons or curling tools.
If those split ends are getting you down, then the Rescue Crème is perfect ! it's so concentrated that you only need the smallest of amounts to seal and repair those nasty ends, you can see the difference almost immediately.
For those of you with fine hair that don't want the heaviness of a conditioner, then try the Moisture Mist. Ideal for adding fantastic moisture to your hair, without weighing it down. And if you want your curls spritzing up then you can use this fab products on dry hair.
Finally, the Ultimate Oil is a non greasy lightweight oil, that uses a blend of 9 specially chosen oils to nourish and seal the most frizzy of hair. Great for when your hair is coming the end of the treatment and just needs that extra boost to smooth those rascals down. I would definitely think it's best for those with coarser hair types.