Introducing O&M: Natural, Luxurious Hair Care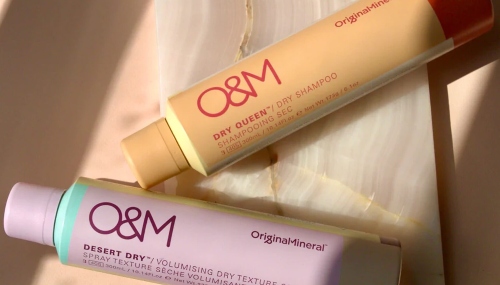 Here at Merritts for Hair, we're always excited to partner with new brands and add them to our ever-growing collection of high-quality, sustainable, and professional hair care lines available on our website. As a result, you can expect to find a whole host of brands suitable for all hair types, including our most recent addition to Merritts, O&M.
Original and Mineral, more commonly known as O&M, is an Australian hair care brand with a clear vision of cleanliness, purity, and saving the planet. With their attention to detail and their mission for producing professional hair care for all, we couldn't be more thrilled to bring their products to Merritts for Hair. So, today we're diving into O&M hair products and exploring everything you need to know about this revolutionary brand.
Who Is O&M?
Created by Jose Bryce Smith in Paddington, Australia, O&M consider themselves pioneers for clean colour and believes that hair health is a choice, no matter how you have dyed or styled your hair. O&M products are created with the same goals: to protect, restore, and clean hair with natural ingredients and sustainability at the core.
O&M has been perfecting their professional hair care offerings for two decades, establishing itself as an industry leader and a brand to always keep your eye on. They believe that their clean formulations and lack of harsh chemicals are the keys to hair health, which is something that everyone should prioritise when it comes to self-care.
Natural Hair Products
O&M has chosen to exclude many ingredients often found in professional hair care products that are incredibly damaging to hair health. These ingredients include:
Phthalates, which cling to the hair to give it fragrance
Sulfates, which strip the hair of natural oils and can cause a long list of hair health issues later on
Parabens, which are one of the leading causes of skin irritation
Propylene glycol, which has been linked to causing kidney problems
MIT, which causes soreness of the scalp
Triclosan, which, when manufactured, can also create dioxin
Sodium chloride strips elasticity from the hair, causing it to break
Instead, Original and Mineral shampoos, conditioners, and other hair products contain a variety of natural ingredients curated to help your hair, such as:
Quandong, an Australian plant
Irish moss extract, which is incredibly moisturising
Desert lime, which prevents premature hair ageing
Tasmanian sea kelp, which helps to repair hair
And so many more…
Please make sure you check the ingredients list of each product on our website to ensure that what's included in the O&M shampoo, conditioner, or other hair product is right for your hair.
The Importance of Sustainability
Sustainability has been at the forefront of many companies' goals in recent years, however being eco-friendly is nothing new to O&M. According to the great minds behind the brand, they have been on a sustainability journey for over a decade, meaning they have had time to establish their goals, learn about the changes that must be made, and implement these practices into their business.
For example, they have pledged to reduce their waste by transitioning their range of products into recyclable plastic, also referred to as PCR. This means that not only is less packing being used, but that that is used can be widely recycled and used again within the hair industry.
Products in the Spotlight
We're proud to stock O&M hair products here at Merritts for Hair and are thrilled with the wide range of shampoos, conditioners, serums, and other products we offer on our website. Whilst it's always difficult to choose favourites, here are some of our stand-out products from their range.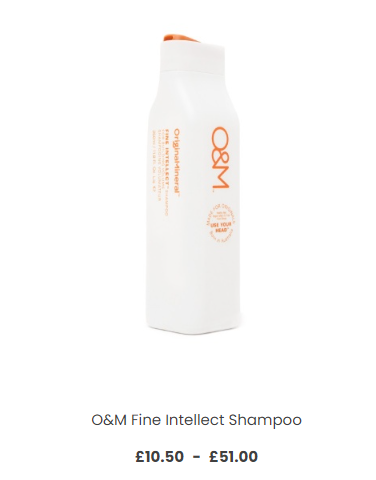 This outstanding shampoo from O&M is packed with Native Australian rainforest extracts, which helps to add fullness and volume to the hair. It is designed to not only give the hair volume but protect it against sun damage and oxidation too.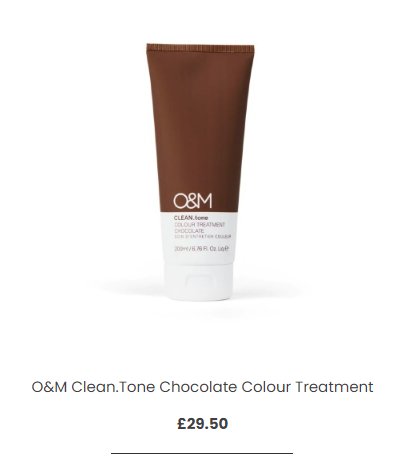 As mentioned, O&M is driven to create a line of products that protect hair, no matter your chosen colour or style and this colour treatment is the perfect example of this. It is designed to keep your hair looking and feeling fresh out of the salon and so shiny that you're guaranteed to turn heads. In addition, the shade 'chocolate' is warm, rich, and perfect for maintaining brown or dark blonde hair.
Please note the Clean.Tone Colour Treatment is also available in a range of other shades, so explore our website to discover the full range and find your tone.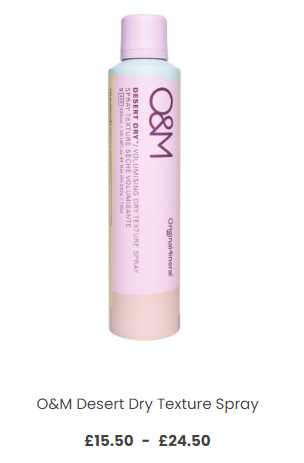 Designed to act as natural collagen to plump the hair, the O&M Desert Dry Texture Spray adds volume, creates drama, and keeps your hair protected simultaneously. It helps absorb oils to prevent your hair from appearing greasy while maintaining the necessary moisture and works as a great styling tool to help you perfect your favourite 'dos.
If you like the sound of any of the O&M products mentioned here, or you fancy exploring the rest of their collection, please don't hesitate to take a look around our website, where you can find many more of the O&M range. Also, contact us if you need assistance finding the right products for you, and we will be more than happy to help!