Father's Day 2015 gift ideas from Merritts for Hair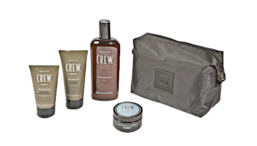 Father's Day 2015 is just a few days away now and if you're still looking for a gift for a stylish dad then we can help you out!
The Merritts for Hair online shop stocks a wide range of mens products including hair care products, leading hair styling solutions, skin care brands and self tanning products.
We will talk you through the benefits of a few of our favourite products that make the perfect Father's day gifts. We post orders the same day as the order arrives as long its before the post office shuts, so if you order today your parcel should arrive on Friday or Saturday.
Gift Ideas
Our American Crew Essential Collection with Travel Wash Bag is an ideal and nicely presented gift set for Father's day.
The collection contains everything that's needed for your travels so could be perfect for a dad who travels often for work or pleasure or just even weekends away.
The kit includes:
A great 2-in1 Shampoo and Body Wash 250ml
Precision Shave Gel 150ml
Post-Shave Cooling Lotion 125ml
AC Fiber 85g
The gift set costs £27.95, we currently have just 1 left in stock os please hurry if you like this gift idea!
Our Dear Barber range of facial hair styling products could be perfect for dads who like to keep stylish facial hair, while the Osis range of hair styling products from Schwarzkopf are a very cool and well packaged brand that will make dad happy.
The range includes Osis Body Me Volume Serum, Osis Elastic Finish, Osis Mess Up Matte Gum and Osis Buff Cream.
The products combine quality ingredients to deliver stand out style. The Osis Mess Up Matte Gum for instance provides an ultra matt finish to the hair with a dry texture effect and choppy style distortion.
All Osis products are easy to apply and cost in the range between £8.95 and £9.95. This may seem more expensive than you are used to paying for a mens hair styling product, but it is extremely good quality and it is for Father's day after all!
We hope you have a wonderful Father's day 2015!