evo haircare packaging and ad campaign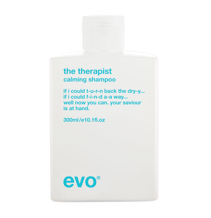 The look incorporates a simple white pack design with fun names and messaging on the products. It may not be for the faint-hearted, as some of the descriptions can be a little close to the knuckle, but if you're a mischievous, they could be right up your street
The Therapist Calming shampoo for instance treats customers to a Cher 'If I Could Turn Back Time' inspired message which is perhaps fitting for those that like to sing in the shower.
Other products also carry similar irreverent messages about horses and gluttony.
According to a video on the company's website evo are all about creating products that are exclusively distributed to the best salons. The video goes on to say that evo put aside the norm of truth stretching claims and imaginary technology or myths regularly seen on hair care packaging. Instead they offer luxurious products that are sulphate, paraben and propylene glycol free. They say all evo ingredients are actives and nothing is added to any of their products just to make a claim on the label.
It seems as though the packaging is designed to deliberately poke fun at the claims of other haircare brands in a contemporary and fun way.
evo products
The latest addition to the evo family is shebang-a-bang. it's a fab dry wax aerosol which gives a wax texture but sprays so finely, even the very heavy handed of you don't get that 'something about Mary' look. It's a favourite in the salon.
The next new product that evo are bring out is a long awaited mousse. Whip it good...we'll let you know as soon as it's in stock!.
The look for evo product lineup has also been complimented with a new way of categorising their products, which are split into product families. The families include Calm, Care, Volume, Curl, Straight, Style, Fabuloso and Face and Body. Each product family contains several relevant products.
We currently stock over 46 different evo products on the Merritts For Hair website. To see them all just search 'Evo' in the search bar at the top of the page.
We've chosen just a couple of Evo products to review here.
This triple milled soap delivers a fresh smell with a ph neutral formula. Its perfect for the shower and comes in a 310gram bar.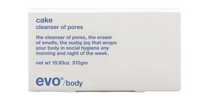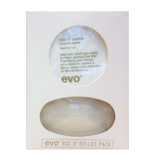 evo box o' bollox is a hair paste that is designed to provide a seriously strong hold. The product is water soluble so creates no build up and helps to create an extreme matt finish. The results are dry hair with texture and a strong hold.
For more on evo products or to try out evo products for yourself take a look in our store and place your order today.