Brand Spotlight On: Evo
At Merritts for Hair, we have a wide range of products from a variety of reputable brands. We carefully select the hair care products we choose to stock, only opting to pick the very best in hair care. Today, we are putting the spotlight on one of the brands that we have in stock: Evo.
Here's everything you need to know about Evo, as well as a selection of some of their fantastic hair care products that we stock here at Merritts for Hair.

What is Evo?
Evo started with a simple desire to shake up the hair care industry status quo and is now celebrating it's 15th birthday. From an Australian upstart to a global movement of salons and stylists, Evo specialises in beauty products that respect both people and planet.
Their range of products are free from sulphates, parabens, glycol and gluten. They only use the best ingredients and don't add anything unnecessary for the sake of gimmicks or label claims; their products do exactly what the bottle says. Their cruelty-free accreditation means you can rest assured that their products haven't been tested on animals, and almost all of their products are vegan friendly.
Being environmentally friendly is important to Evo, which is why they incorporate green pre and post-consumer recycled plastic into their product packaging. They also use FSC certified recyclable paper for their printed materials and hardwood for their brushes. Evo also purchase carbon credits to help fund revegetation projects and they donate their obsolete stock to homeless shelters. So when you buy Evo products, you know that your money is going to a company that aims to do good in the world.

Evo Products from Merritts for Hair

Evo Salty Dog
This mist from Evo is designed to give you salty, beach-based texture and a matt finish to your hair. Evo Salty Dog will provide you with that fresh from the beach hair you've been dreaming of. Simply spray onto damp hair and blow or finger dry. You can also mist lightly on dry hair for an extra boost of texture. Recommended for all hair types, this mist will have all your friends fooled into thinking you've spent all day at the beach with that luscious, windswept look.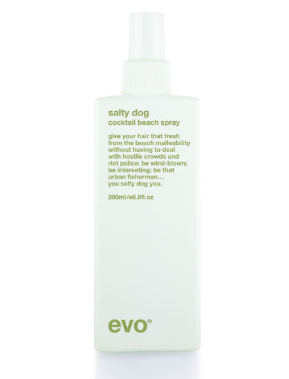 Evo Easy Tiger Straightening Balm
Do you have unruly curls that just won't sit straight? Well, Evo Easy Tiger Straightening Balm is the luxurious balm that tames those wild curls and flyaways with weighted conditioning. This sulphate-free styling cream helps to maintain keratin-treated hair with its unique formula.
Apply to towel-dried hair and blow-dry, using straighteners if necessary. This balm is recommended for those with coarse, frizzy and dry hair who want beautifully smooth and straight hair.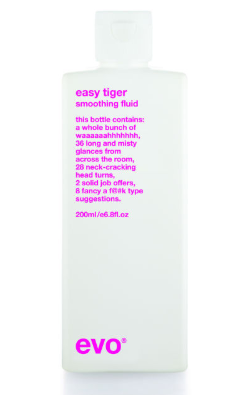 Evo MacGyver Multi-Use Mousse
Evo MacGyver Multi-Use Mousse can be used with or without heat to create luscious volume, texture or separation. With a strong hold, this mousse is ideal for style control or to add that little extra something to your hair. It's lightweight and completely brushable, so your hair stays soft and touchable around the clock. Shake the bottle well and work through towel-dried hair, but also dry for definition and style control.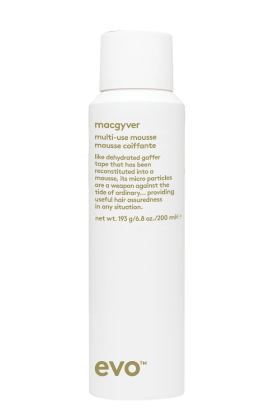 Evo Haze Styling Powder
This powder will give your hair some gorgeous bulky texture to play with when you're suffering from the flop. Evo Haze Styling Powder will provide you with some glamourous volume and texture. Just lightly sprinkle over your head and ruffle to suit your style, it gives body and texture with a matt finish. It's perfect for any hair length or texture, especially for those with fine or limp hair.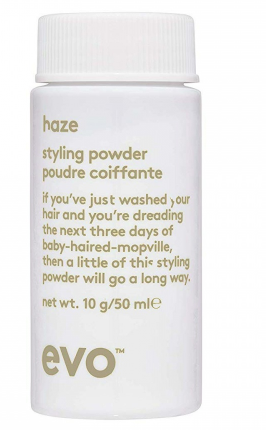 Evo Cassius Styling Clay
The Evo Cassius Styling Clay will provide you with a strong, pliable hold with a matt finish. For added volume and a raw, thick texture for your hair, this clay will help you achieve any look. Simply work with your fingers into your hair and pull it into the desired shape. It's perfect for all short hair types who want to achieve a certain look.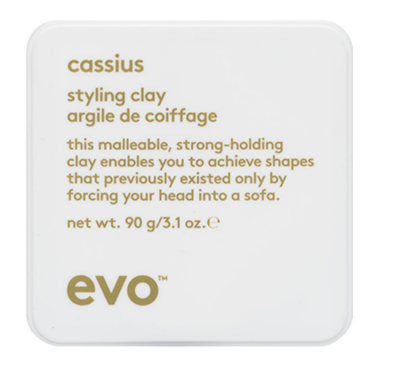 At Merritts for Hair, we provide quality salon products at the very best prices. We stock the latest professional hair care brands and products so you can look your best every day. From conditioners to shampoos, styling gels to sprays, we have it all. So if you're looking for Evo hair products or any other salon-quality products, feel free to browse our website today to find what you're looking for.
If you do require any assistance or guidance on which of our products will work best on your hair, then please don't hesitate to get in touch with our salon experts. You can contact us by calling 01204 522 602 or by filling in our quick and easy online contact form and a member of our team will be in touch with you to discuss your requirements in more depth.