Beautiful Wedding Hairstyles for 2015
Bridal Favourites
One of the most classic and timeless Bridal hairstyles is the up-do. There are many variations of this look ranging from the simple to the more intricate, and here we run through a few ideas you can research and try out.
Fresh Flowers
Why not add flowers to your updo that match the bouquet you will carry down the isle? This style can really work if your going for a bohemian dress or overall look for you wedding ensemble.
Fairytale Tiara
Every girl wants to feel like a princess on their wedding day so why not go for a glittering tiara. When styled correctly this can look elegant, refined and sophisticated. Because the tiara adds a touch of glamour you can work a more simple and casual hairstyle such as a high messy bun.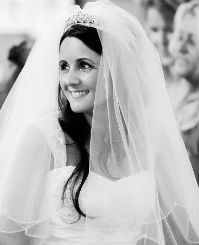 Ballet Bun Volume
A ballet bun is neat, tidy, precise, and looks even better when it is given serious volume. This look can make you feel taller, and keeps the hair neatly away from your face.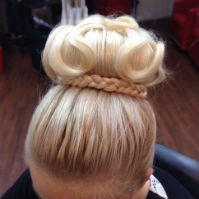 Laid Back Braids
When your planning a more laid back look for your wedding you may feel like an up-do could look too formal, but the practicality of it still appeals. In that case there are a couple of options to make the look more casual.
Firstly try out partially braided hair, a small side braid could work very well. Another option is to go with a centre parted up do with loose strands, this style adds softness to the look and matches more a casual wedding outfit.
Recent Merritts Wedding Hairstyles
The photo below shows one of the recent bridal hairstyles we have created in our salon. This up-do with soft waves and added volume makes for a beautiful wedding day hair style.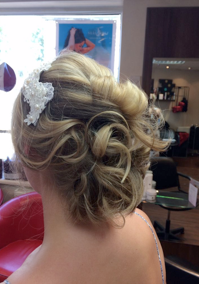 Bridal Party
It's not only the bride that wants their hair styled for the wedding, mothers of the bride or groom want to look equally glamorous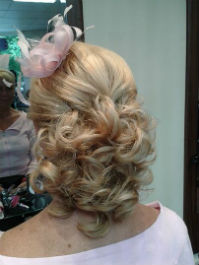 Here, a mother of the groom wanted something casually stylish, but away from the face.
If you're interested in seeing more bridal hairstyles and hairstyle ideas for bridesmaids and wedding guests, then keep checking back on the Merritts for Hair blog as we will be posting more inspiration in the coming weeks.
If you would like to have a chat with us about creating your own perfect wedding hairstyle feel free to get in touch for a consultation with our stylists.