Beautiful Wedding Hairstyles for 2015: Part 2
Photograph by micadew on Flickr
Long side ponytails have been a very popular look this year seen at the fashion shows in London, New York and Paris. This is a style that can work very well for bridesmaids and as seen in the image above it creates a soft, stylish and romantic look. The great thing about this style is that it can be adapted slightly to suit your outfit and how formal or relaxed you want to appear.
From a formal side ponytail to a curled princess style pony, sleek, mermaid or twist style there is something that can suit every occasion.
A particular favourite for weddings is a formal look side ponytail worn over the shoulder on one side. If you're interested in creating this look for your own hair contact us at Merritts for a consultation, we have the skills, styling tools and hair products to help you achieve your dream wedding hair style.
Updo with Fringe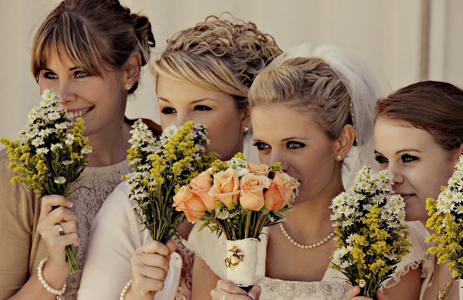 Photograph by Rachel Wilder on Flickr
We're a big fan of the updo wedding style because it is classical and romantic. Again as with the side ponytail look above, this style can be very versatile with many different ways to style it. Our favourite look at the moment is definitely the updo with a fringe. This updo creates a formal and sophisticated element to the style while the fringe helps to frame the face and adds softness.
The image above shows a good example of bridesmaids who have captured gorgeous wedding day updo hairstyles. The bridesmaid on the far left has made use of her naturally straight hair with a simple bun and stylish sleek fringe while the bridesmaid pictured second from the left uses a curly volumised updo contrasted with a straight but textured side swept fringe.
Other looks which you may want to consider in this style include a modernised beehive style updo with fringe, to add height and glamour.