Alfaparf That's it!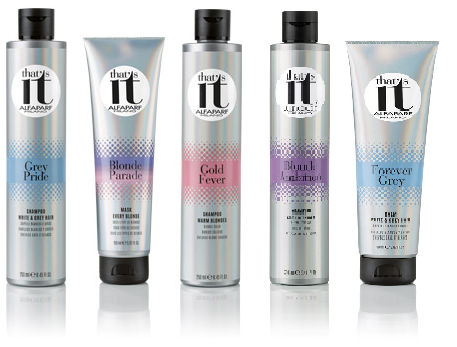 This week we have introduced a new range to the salon and website! Alfaparf that's it has been a definite hit so far! With a unique line of products with a quirky name. For those of you that remember Alfaparf's colour protection range with the cool and warm shampoo's will be glad to know that the 'that's it' range have the same colour tones in the 'Gold fever' and 'Blonde Ambition' but have also introduced a new tone called 'Grey pride' .
The range now uses Phyto-keratin in the shampoos to keep the structure of the hair intact, which is great news for those with bleached hair as your hair will be ultimately stronger and healthier. The Ceramide's also deliver strength and moisture to your hair leaving it silkier and smoother. Packed full of light-reflecting pearls that will create an infinite amount of tone and incredible shine.
Gold Fever is a shampoo for warm blondes and will enrich caramel and honey tones and can be used alongside the Blonde Parade mask. as can the Blonde Ambition which will give cool/violent tones . The all new Grey Pride can be used to maintain the new grey tones that are so popular with bleached hair but can also be used on natural white or grey hair and the accompanying Forever Grey Balm is a lightweight detangling treatment.